With so many models available for purchase on the market, people nowadays have a lot of options when they want to pick up Bluetooth headphones. That being said, regarding all-around performance, a few models like Samsung Level U certainly stand out from the rest. Designed with convenience and handling in mind, Level U rarely fails to meet the expectations of its owners in use. The pair of headphones from Samsung is far from perfect though, therefore, reports of Samsung Level U problems still show up from time to time.
Interested in getting Samsung Level U but prefer to scrutinize all of its shortcomings before coming to the final decision? If that is what you wish then this article should be of use to you. Down below, you would be provided with pretty much everything you must memorize about issues surrounding Level U of Samsung and how to tackle them.
Level U: Troubles And Solutions
The Samsung pair of headphones operate rather well but if it acts ups, people often experience one of the following
Stop working randomly with charging light remain unlit during recharge
Once it comes to Samsung Level U problems, irregular ceasing of operation with erratic charging light tends to be one of the most common ones. Actually, based on the complaints sent by users, the issue happens to lots of Level Us from newly-purchased pairs to those with extensive use. Luckily, you don't have to do much to return your Samsung headphones to normal.
Fix: all you have to do is to perform a hard reset on your headphones. Make sure that your Level U is off then proceed to press and hold both the volume and the power key at the same time. Afterward, release the buttons before pressing the power button again.
Cause persistent distraction while exercising
Overall, Samsung Level U is convenient to wear but if you like to listen to music during exercise, expect distraction. When subjected to mild vibration, the bud's seal of  Level U usually breaks and that keeps people from getting into the rhythm while exercising.
Fix: A number of users claim that getting well-sized buds could reduce the odds of bud's seal breaking.
Background noises leak in occasionally
The headphones of Samsung can block out most sounds but leaking background noises remain an issue, especially in loud surroundings.
Fix: There is no method to address leaking background noises but if you pay attention to the fitness of buds while using Level U, you would barely notice such noises.
Frequently Asked Questions About Samsung Level U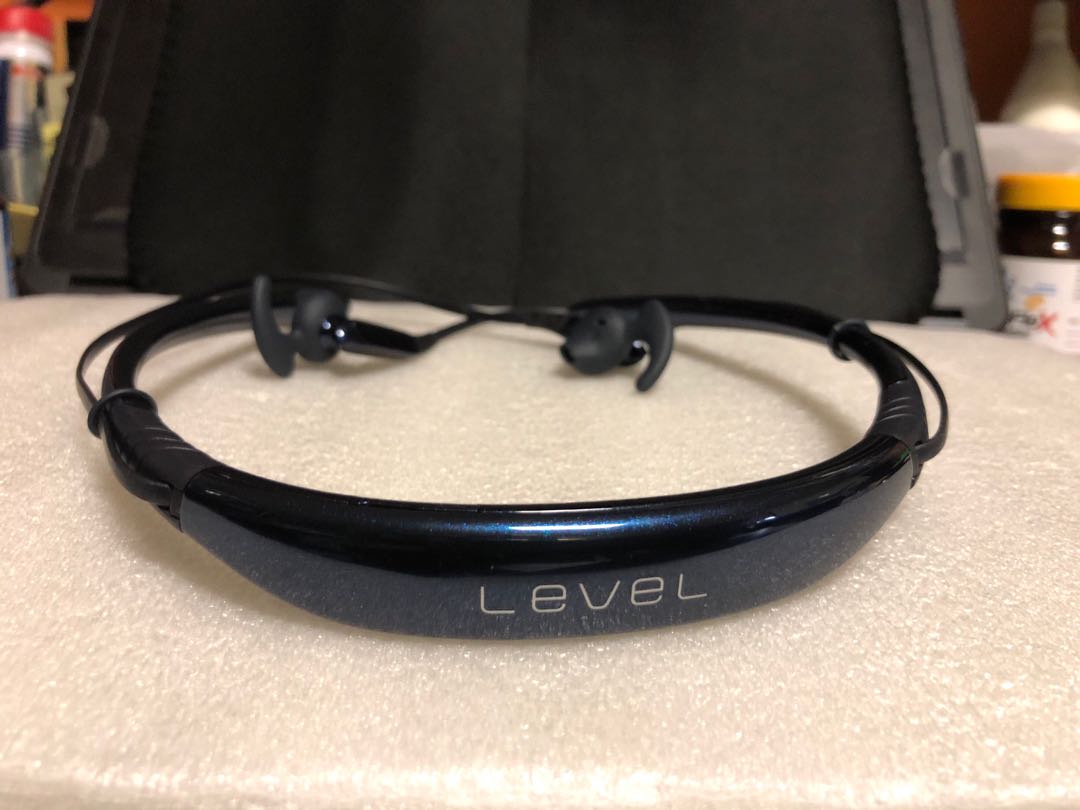 Could Level U handle water? 
Samsung Level U is made to be water-resistant so it should be able to take some drops of water. It's still unwise run through a downpour with the Samsung headphones on you though.
Is Level U compatible with Samsung Level?
Similar to other Bluetooth headphones of Samsung, Level U could be paired to Samsung Level. Using Level, it's possible to check out various aspects of  Level U and make changes to its operational setting.
How long would the battery of Samsung Level U last? 
When fully charged, the battery of the headphones from Samsung is capable of sustaining continuous operation for around ten hours before it requires a recharge. By pairing your Level U to Samsung Level, you can monitor its charge level at any time with your smartphone.
What needs to be done to adjust the cable?
To adjust the slack of the cable of Samsung Level U, all you have to do is to slide the rubber loop forward and backward.
Does Level U come in optional colors? 
Samsung Level U is released to the market in two colors: back sapphire and white. Hence, you could choose the color that matches your liking.